STUMP REMOVAL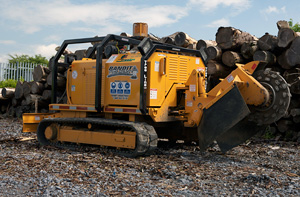 Our Bandit 3400 Stump Grinder
The 3400 is powered by a 140hp Caterpillar diesel engine; the unique hydrostatic cutter drive incorporates a variable displacement pump and rotating case drive motor offering continuous variation of both speed and torque to suit changing cutting conditions. The hydrostatic transmission is also incredibly efficient with over 120hp net available at the cutter - previous hydrostatic solutions used on stump grinders have been much less efficient. The compact design of the hydraulic driveline is much less restrictive around the cutter than bulky belt guards. The three speed track drive transmission allows quick transport to the work area, combined with very accurate positioning during the grinding process.
Treeline Ltd - investing in equipment, investing in people.
Main Number: 059 97 75777
Fax: 059 97 75644

Kilcullen, Co. Kildare Tel: (045) 482123
Foxrock, Dublin Tel : (01) 2898877

Mobiles:
(086) 254 3395 or (086) 811 5747

Email: Treeline Ltd info@treelineltd.com

Our machines can remove tree stumps large and small with minimum ground disturbance. This procedure is suitable in areas where access is limited and where minimal ground disturbance is required.
Honey Fungus prevention: There are no chemicals available for control of honey fungus. If honey fungus is confirmed, the only effective remedy is to excavate and destroy, by burning or landfill, all of the infected root and stump material. This will destroy the food base on which the rhizomorphs feed and they are unable to live and grow in the soil when detached from infected material. We remove all contaminated site waste. See RHS Honey Fungus information